>

>

>

EQDOG - Classic Harness
EQDOG - Classic Harness
SKU:
37.9
44.95
€20.94 - €24.54
On Sale
Unavailable
per item
 Durable nylon straps
 Soft patted upper panel with laminated nylon
 2 leash attachment points
 Easy to adjust
 Comfortable assistant handle
 Strong buckles
 Can be used for anti-pull-training
No matter if its a walk around the neighborhood, a day in the woods or your training at the dog school. For those dogs who walk best with a harness this is the comfortable every day solution. It is easy to use and the padded upper panel in combination with the soft but durable nylon creates a secure connection between you and your dog. The 2 leash attachment points give you the opportunity to not just walk your dog but to also correct and train your dog if necessary. For a perfect fit we have implemented 4 adjustment points around the harness. Two on the shoulders, one under the chest and one around the chest. For more safety we have added reflective details so your dog will be better seen in low light situations. To assist your dog you will find a comfortable assistant handle on top of the upper panel.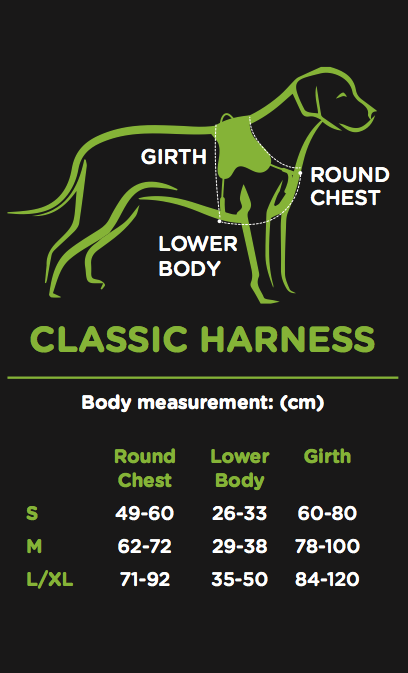 Sizing: XS, S, M, L

Colors: Black/Grey

Care instruction: Hand wash warm, with mild soap. Air dry.