EQDOG - Cool Dog
SKU:
41.97
59.9
€31.74 - €41.97
On Sale
Unavailable
per item
ACO-DRY® a self-cooling lining
 Highly breathable
 Super durable hex mesh outer shell
 Moisture evaporation
 Heat dissipation
 Two adjustable buckles for quick on and off
 Extra wide neck zipper opening
Temperature extremes seem to be the new normal. We have not just been experiencing extremely cold winters but also some really hot summers. This intense heat can be tough on our dogs, especially being very furry or older. To help out your 4-legged friend you can either go for a swim in the nearby river or lake or hose him down with cold water. But what if there is no water around or your dog don't like to get wet or you simply don't want a dripping, smelling wet dog? We can offer you a great solution!

Our long lasting Cooling Vest. It is made out of ACO-DRY® a self-cooling material and a durable Hex-Mesh Nylon. Together they are our new high performance cooling fabric. Once you wet it and put it on, it cools down your dog with moisture evaporation. Due to this new technology ACO-DRY® it keeps your dog cooler for a longer period of time than other cooling apparel on the market. This vest is easy to put on and comfortable to close and open by using snap buckles. It has a zipper along its neck to also fit big headed dogs. The vest has a streamlined cut and is designed to cover/cool down the most important parts around the organs.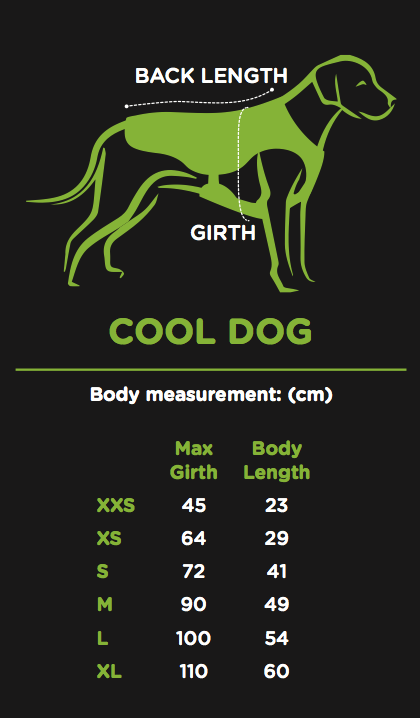 Sizing: XXS, XS, S, M, L, XL

Colors: Blue

Care instruction: Machine wash warm, do not use fabric softener.