>

>

>

EQDOG - Pro Harness
EQDOG - Pro Harness
SKU:
35.37
55.9
€27.54 - €35.37
On Sale
Unavailable
per item
Durable streamline design
Fur-friendly, breathable upper panel
Waterproof belly panel that's easy to clean
3 coatings: water-, stain- & oil proof
3 strong leash attachment points for multiple use
Assist-handle for more control and needed support
Attached gear loops for extended harness use (as backpack)
Reflective details for a better visibility
Multifuctional
Functionality, durability, easy of use and a light weight & breathable construction are the major characteristics of this multifunctional harness. It is ideal for your daily walks, training, hiking, man-trailing, backpacking, etc. The 3 different leash attachment points are located on top for leading the dog, one at the rear end of the upper panel for man-trailing and one under the belly for attaching a tracking leash. The belly strap is easy to adjust and perfectly located to prevent dogs from backing out of the harness. The wide shoulder straps feature an advanced slide in adjustment that is quick and easy to adjust. For assisting your dog we attached a strong but comfortable handle to its anatomical design. The belly panel is completely waterproof which makes it easy to clean.
We have made quite some upgrades to the newest version of our harness:
-All the upgraded Pro Harnesses will now come with a new hanger
-Softer foam for better fit
-We have also added a build in Triglide™ Strap Adjuster for the waist strap adjustment.
-The shoulder strap is now changed to auto lock webbing.
-Removed Chest ring
Sizing: XS S M L XL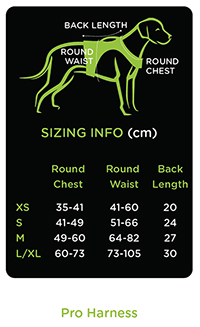 Colors: Grey/Reflective, Grey/Green
Care instruction: Hand wash in warm water with mild soap